Episode Information

Episode №:

3

Network:

YouTube

Date Posted:

June 29, 2009

Created by:

Directed by:

Previous:

Next:
"Greatest freak out ever 3" is a Greatest Freakout Ever episode from season. In this episode, Stephen freaks out over his 16th birthday gift, a vandalized truck covered in graffiti, and he attempts to damage it with a baseball bat.
Characters
Synopsis
It's Stephen's 16th birthday, and there is a surprise present waiting for him. Stephen tries to guess his gift while blindfolded. He first guesses a car, then guesses a truck, which was correct. Excited, Stephen takes off the blindfold to see his new truck. However, he doesn't like it because of its exterior. He states that he would look like a "poor kid" in front of his friends, then goes to get a baseball bat. He comes back out, climbs onto the truck, then begins hitting it with the baseball bat. Everyone but Jack is freaking out while disappointed. Stephen then continues to hit the truck until Jennifer tells Jack to shut the camera off, to which she does herself.
Trivia
Perhaps if Stephen got the truck painted to cover the graffiti, his opinion on the truck would've changed.
This is one of the first freak-out videos to feature the F-word.
Continuity
Errors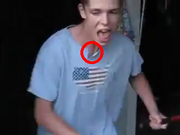 This episode was released on June 29, 2009, but in reality, Stephen's actual 16th birthday fell on July 28, 2009.
Videos