"
Is this what you want?
"
 

— Stephen
Stephen Quire (born July 28, 1993) known as the Freakout Kid is the main protagonist of the Greatest Freakout Ever series. He is an actor, known for Fart of Darkness (2013), When Fat Kids Attack! (2012) and Tosh.0. In 2009, Stephen arrived home after school like any ordinary day, until he finds out that his World of Warcraft account had been canceled by his mother. The cancellation of Stephen's WoW account stages the first official Greatest Freak Out Ever episode distributed in 2009 and owned by wafflepwn (Jack Quire) on YouTube.
Description
Stephen is a 23 Year old boy who is Muscular Kinda Thick Caucasian male with Dark Blond Hair. He has blue eyes. At the 10th episodes, He got his ears pierce. The 15th, he has a tattoo on his left shoulders. He is most likely a Good Engineer because he is responsible for fixing and building the Batmobile so it can be ready for Comic Con. For this like completely until when Stephen wants to dance at Gangnam Style with 27th. Whether Stephen Quire deals with anger management or just feels extremely angry about the cancellation of his WoW account is completely debatable. But in following episodes, Stephen ticks about the most random incidents. Here's a glance at the set-up: a 15 year old kid's mom cancels his World of Warcraft account. The kid's brother, Jack, sets up a video camera to catch an entire post-cancellation tantrum that his brother Stephen throws on tape.
But the video turns to the worst when Stephen throws one leg on his bed and plants the other on his carpet while shoving a television remote up his butt. Viewers ask, could someone actually degrade their child enough to make him/her assault a TV control like this, simply by taking away video games? Wafflepwn uploaded 20 complete Greatest Freak Out Ever videos centering on Stephen within the past four years, not including bonus episodes regarding Stephen or freaking out. Whether Stephen Quire deals with anger management or just feels extremely angry about the cancellation of his WoW account is completely debatable. But in following episodes, Stephen ticks about the most random incidents. It seems that Jack Quire's only motivations for distributing Greatest Freak Out Ever videos on YouTube would be for an income by allowing advertisements before his clips. However, none of Wafflepwn's videos have advertisements. Granted, Jack Quire may just be craving fame and uploading his hilarious YouTube hits seems to be a successful way to do so.
In episode 11, Stephen Quire intentionally breaks his family's television set because his mother won't buy him the video game, Halo Reach. His mother calls a police officer to speak with Stephen because she cannot handle his temper. Near the conclusion of the clip, viewers observe the officer spraying Stephen with pepper spray because he is uncooperative, which definitely makes the episode look real. But whether the Greatest Freak Out Ever videos are truly real has slightly been revealed on Tosh.0 during an interview with Stephen Quire. Daniel Tosh makes Stephen perform a polygraph test and the results are debatable. Although Stephen never completely admits that his brother's videos are fake, viewers can easily assume the obvious answer during Stephen Quire's unconvincing interview on Tosh.0.
Personality
Stephen was freaking out because his mother had cancelled his World of Warcraft account and that's when he was flipping out, he says "I'm gonna run away and never com back!" and that is supposed to be like that. The second episode he was playing a game online and he wouldn't know who it is and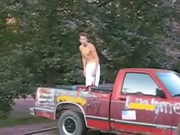 he is flipping out. Until when Stephen says "Stop freakin' betraying me, I'm on your team!". Stephen was yelling says "FREAKING STOP!" he gets off the computer and just had to shut off and he just says "Oh, my god." and Jack's laughing like that. A third episode video when Stephen didn't like to see a vandalism or graffiti truck, he just going to get his own baseball bat he went up to truck when he says "You guys like making me look like a freakin' poor kid." and he just had took his shirts off. A fake third video when Stephen tear his black shirts off.
The fourth video, Stephen always trying to play his dad's guitar because Jack was bothering with Stephen 'cause that's really annoying, and he smash his dad's guitar. The fifth video Stephen's complain about crappy microwave and it won't cook, he broke the microwave and he got grounded. A six episodes Betty Lou Quire was taking care of Stephen and Jack. Betty wants to watch the news and Stephen wouldn't change the channel. His grandmother says "Do I have to get my paddle?" and that's not a paddle, that's a cutting board. Betty hits Stephen eye, Betty says "You got it up your ass to?" Stephen's reply says "That's not freakin' funny." and he don't have a worry 'bout that. A fake six video when Jack was holding the door with Stephen and Jack says "Wake up, Stephen." and he knock the door. Stephen can't get out of his room he says "Jack. Unlock the door!" he just had screaming and jabbering but you can see when Stephen a boner looks like erection.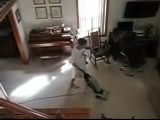 A seventh video because Stephen can't do vacuum cleaner and he broke it. His mother going to tell
David Quire
, when his father says "Oh, s***! Boy, I can't watch football for an hour without you breaking s***?" Stephen reply says "You think I care." and his father says "Do what? Come here, boy! I'm gonna rip your freakin' face off, come here!" he just had went through outside and the dog was attacking with Stephen. Eight videos, Jack and Stephen are going to play Guitar Hero, until when Stephen says "SHUT UP!!! You're a freakin' troll!" Jack was turning TV's off Stephen was hurting with Jack. A ninth video Stephen and Jack are watching UFC to fight, Jack was laughing to see that and Stephen was yelling to say "OH, MY GOD!!!" now he punched the panels out of his door and he got a problem, Jack was says "You just punch the panels out of your door, what's your problem?" Stephen says "I don't freaking care it got freakin' lucky." and he punched it.
A tenth video, Stephen was in gymnastics to flexes, but Jack shouldn't be there because they're trying to do gymnastics, Stephen sitting on thing to back flip Stephen ripping his black tank top off until he says "Take your gay, leotard and die!" and he just ran off. Eleventh video, Stephen broke his family $3,000 TV because his mother wouldn't let him buy Halo: Reach and his call the cops at him, Stephen can't must be making police officer to do this, until when the cops says "You do not put your hands on a police officer, do you understand?" and now when Stephen replies cops says "Making you what?" and the cops using his pepper spray to spray Stephen's eye. A twelfth video, his father shut off the internet and he's freaking out, his parents will turn the internet back on at 2 weeks and he just had broke the office chair, he gets on hummer yellow and he took off.
A thirteenth video, Jack already did The Happiest Company, Stephen doesn't know what's the guy said, I hope they're making commercial with company. He's unfortunately destroy their object because Stephen push the guy and the guy didn't even says "gay" until Stephen says "He's pointed at me when he said gay!" and he just gets out. A fourteenth video, they got the swimming pool and Stephen learn how to swim. They were only trying to swim I hope his father said "Get your ass out now." Stephen was throwing chairs at David and Stephen says "SCREW YOU!!" he's going back inside to house and they just set up the two chairs.
Quotes
---
---
---
---
---
---
---
---
---
---
---
---
---
Trivia
Community content is available under
CC-BY-SA
unless otherwise noted.